We are happy to tell you that the latest version 22.11.160 is out! Our first update since we work completely according to the Scrum methodology. Below you will find the release notes for this update.
This update focuses on; Sustainability and Meters+meter values!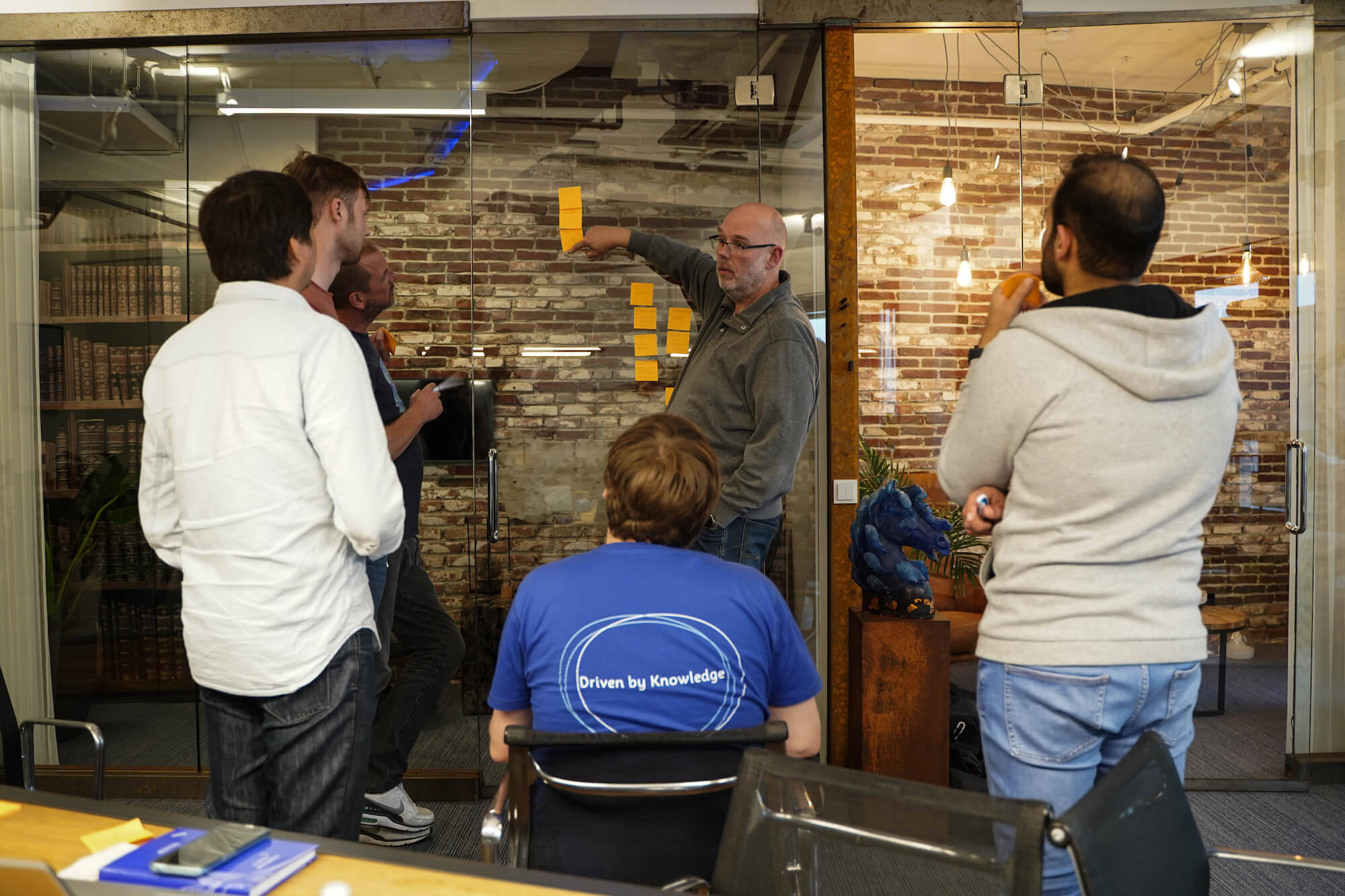 With this update we are introducing a Sustainability module within HUMBLE! The purpose of this module is the following;
Providing insight into possible potential for sustainability. Recording activities to realize this sustainability potential. And then providing insight into the (energy)performance of your real estate to test whether implemented solutions actually result in the intended sustainability.
In this update of HUMBLE, the following components have been implemented in the Sustainability module. Take a look at our roadmap to see what else will be added in the future!
Activating this module can be done via 'Application management'; 'Organisations'; sub tab 'Settings'.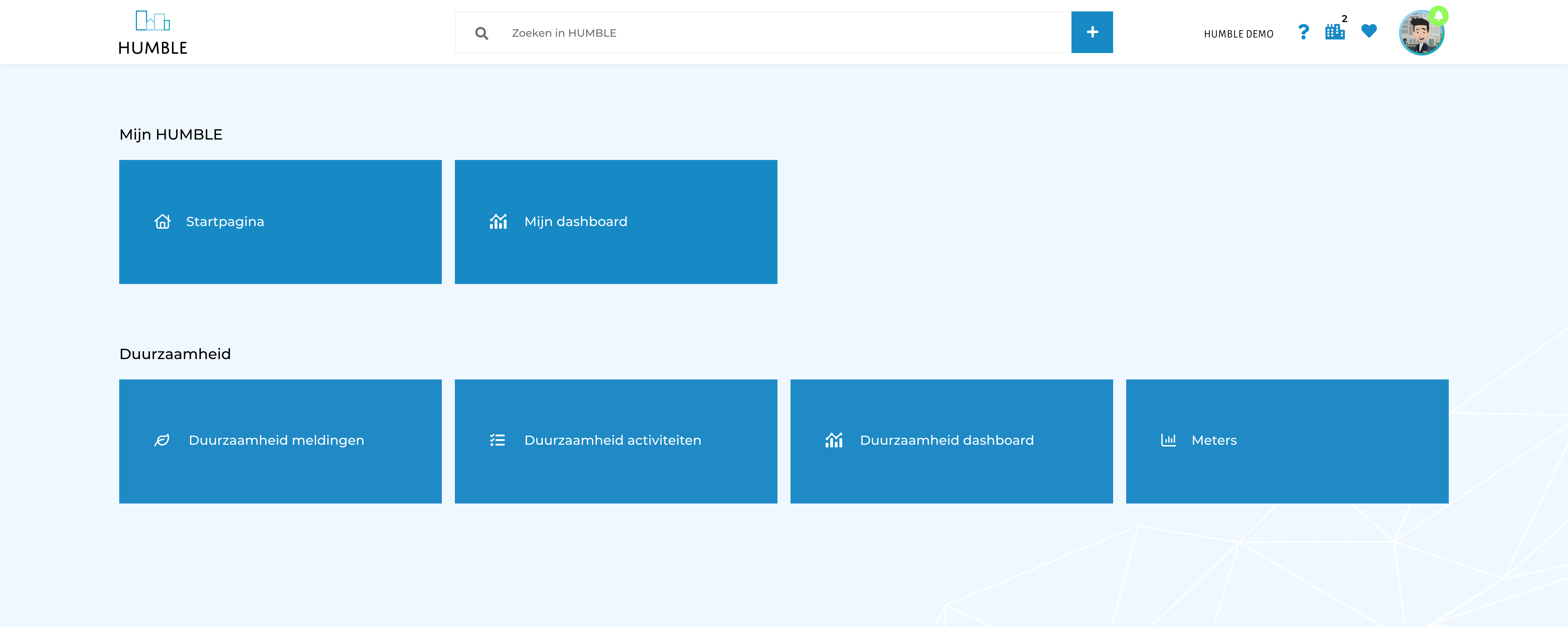 Sustainability tickets
In this list you provide insight into possible improvements in the field of sustainability within your organization. Think about; a project to find out whether it is possible to install solar panels at the head office to reduce energy consumption.
Potential savings can be introduced for all sustainability activities that follow from this ticket. The savings from these activities are shown cumulatively on the detail screen of the ticket.
Sustainability activities
Registering, executing and monitoring one or more (operational) activities to implement possible improvements (registered with 'Sustainability tickets').
Think about; investigating whether installing solar panels is profitable (think of efficiency, costs, etc.), examining the roof construction, having the roof measured, requesting quotation(s), and actually having solar panels installed.
Sustainability dashboard
A dashboard to provide insight into all your cards regarding your sustainability tickets, sustainability activities, and (energy) performance!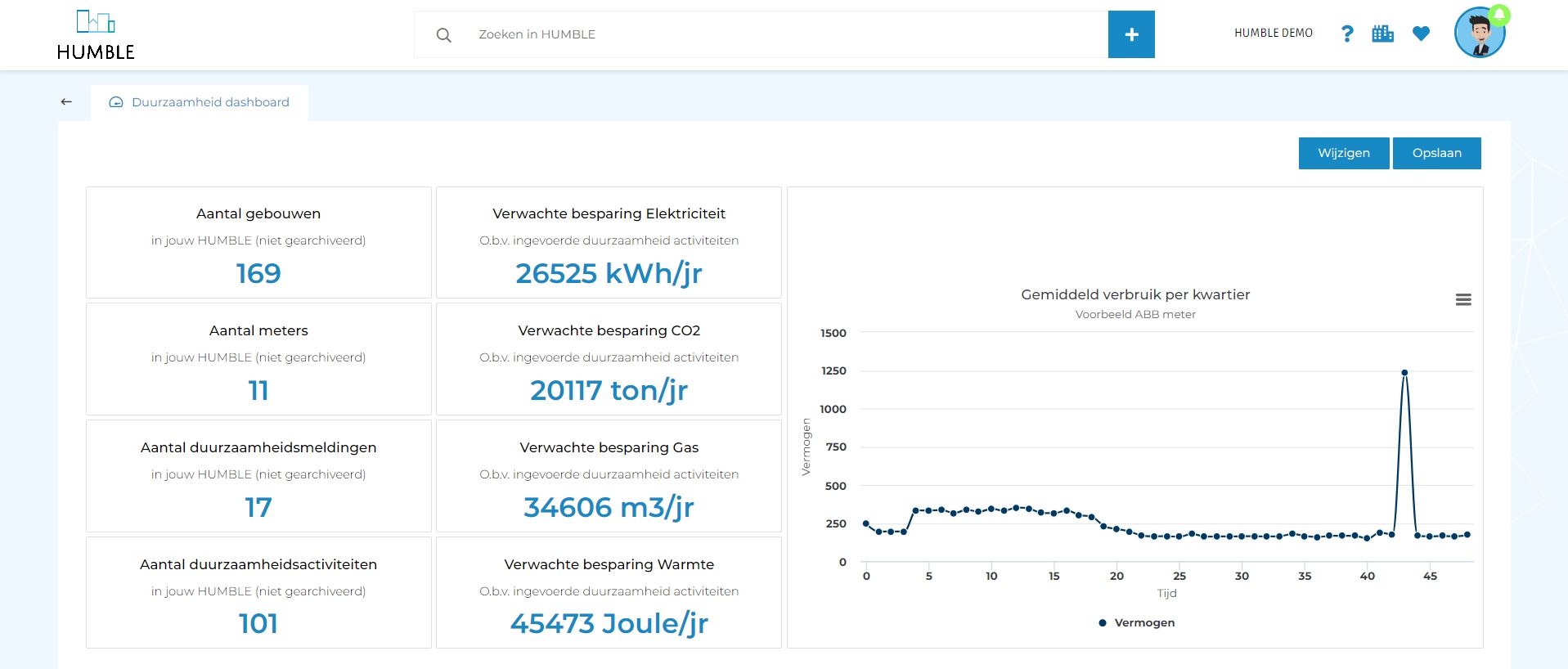 Meters
By means of 'Meters' it is possible to record all kinds of meters (and associated definitions and meter values) in HUMBLE. This part is discussed separately in the release notes.

Registering meters and associated measured values is part of the 'Sustainability' module in HUMBLE. The purpose of this is to be able to record and monitor (energy) consumption. If you want to record other meters and measured values, that is of course also possible.
The savings realized through 'Sustainability activities' can thus be made transparent. 'Meters' can also be linked to elements. For example, a gas meter at a central heating boiler in the list of assets.
Link meter(s)
It is possible to (periodically) offer values from an external meter or via an external system on the HUMBLE API. The data from suitable meters/measuring channels can be accessed in this way in HUMBLE.
Contact a HUMBLE specialist for more information!

All location types have been given the Multi-Select option!
It is now possible to use the Multi-Select option with all location types in HUMBLE. This also makes it possible to make changes/archive actions in bulk on these screens.
Contract to be recorded at MYMP Activity
With this update it is possible to link a contract with a supplier to an MYMP Activity. To do this, first make the contract known in HUMBLE via 'Contract management'; 'Contracts'.
Tile view now also available on the Assets screen!
With this update, the tile view (as recently added to Documents and Buildings) has also become available with Assets. The tile view shows the asset's primary image, along with its code, description, and current condition score. Super handy!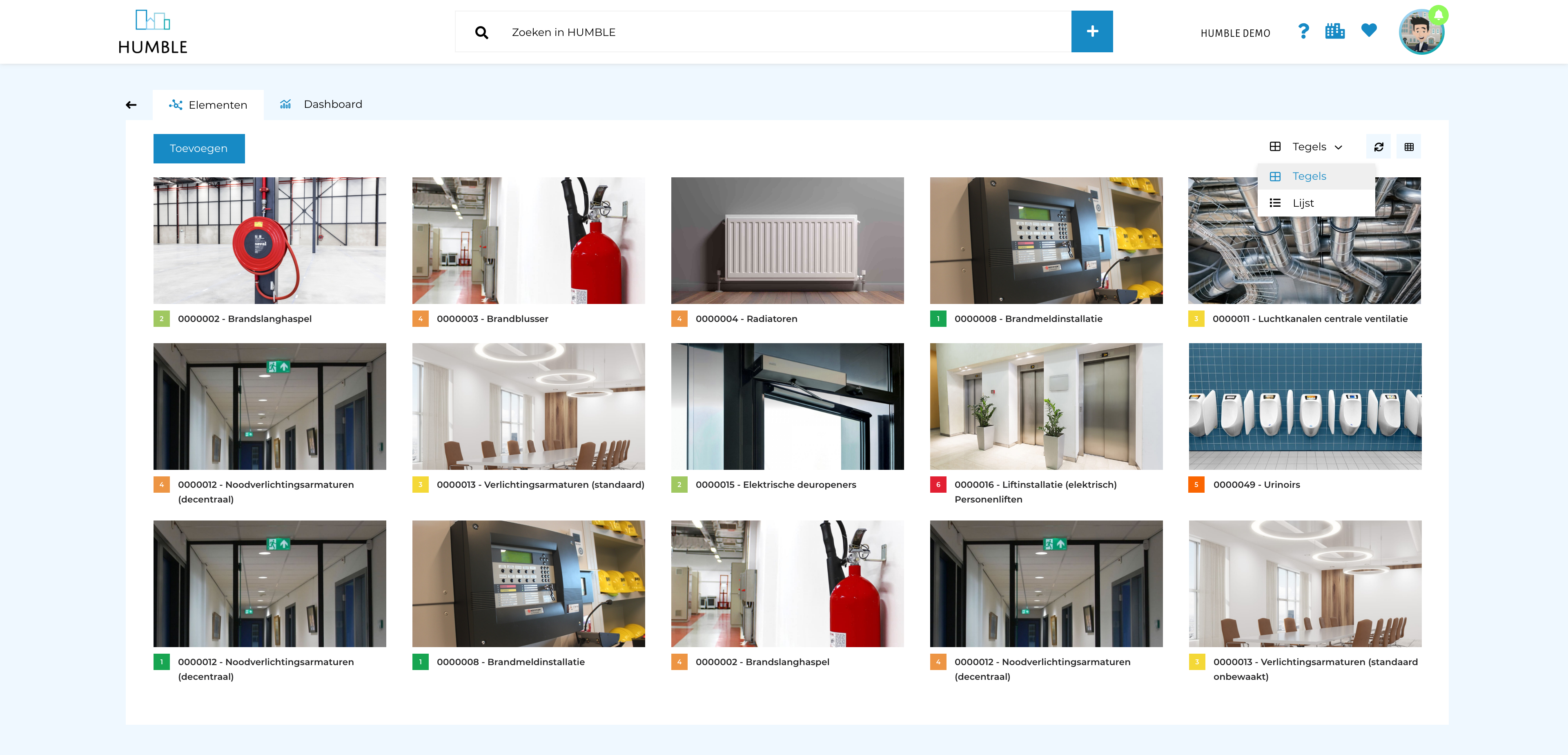 In the Documents sub tab the (filter) buttons were not the same size
With this update, the size of the buttons has been made equal to each other! Much nicer right?

The location tree now shows all levels used (e.g for an asset)
If you have configured a very extensive location structure in HUMBLE, you may have noticed that, for example, for an asset, not all location levels were shown. For example, Terrain, Complex, Building, Building Part and Workplace, but not the Area and Room in between. Because this is confusing, we have now ensured that all used location levels are actually shown!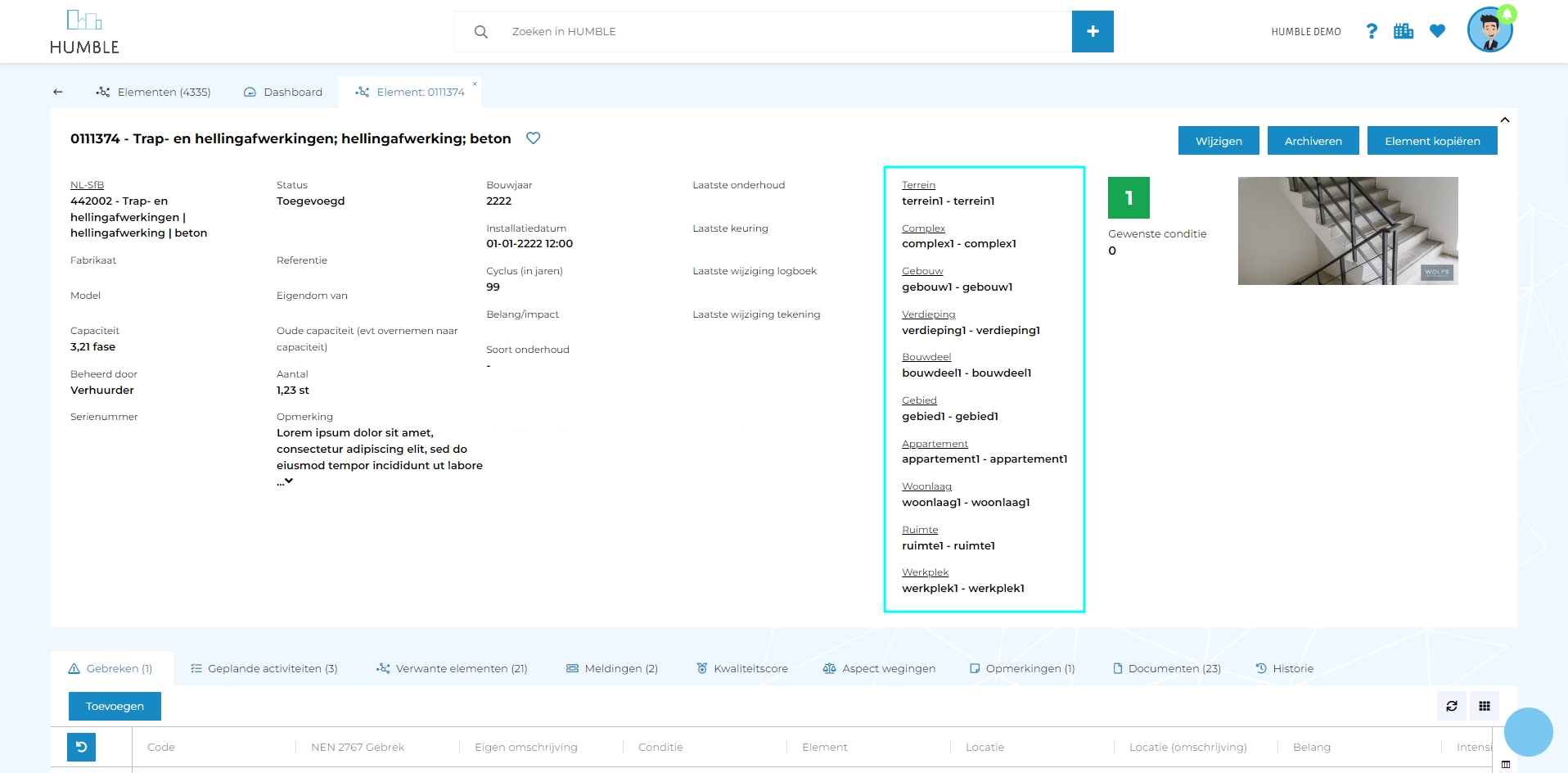 Use Checklists in Compliance rulesets restored
Currently there are two options in HUMBLE with regard to providing evidence for compliance activities; an uploaded document, or a completed checklist. In the NL-STD ruleset in our platform, only documents are currently expected as evidence. However, it is also possible to define your own rules and expected proofs in HUMBLE. The option to use checklists now works properly, which has been fixed with this update. For more information about using your own compliance rules and/or rule sets; feel free to contact a HUMBLE specialist!
Location filter now works within 'Revisions'
Setting a location filter had no effect on the revisions screen until this update. This has now been fixed.
After editing an asset, without saving, all date fields were incorrectly displayed when editing again
This update has fixed this bug.
Restored 'Tags' screen title (Data Management)
Wrong screen title was shown, this has now been fixed.
Import with custom fields fixed
A temporary bug with importing data with custom fields prevented the entire import action. We fixed this quickly!
Number of roles and permissions bugs fixed in MYMP activities
The button 'Show archive' under the sub tab 'Scheduled activities' under 'Assets' was not visible with certain roles, while those rights were there. This has been fixed.
The 'Edit' button in this same sub tab was also missing. But if you used the detail button (eye) to open an activity, you could then change it. This has now been fixed. When there are sufficient rights, the correct icons are displayed.
Changing through Multi-select resulted in timeout
When large numbers of records were changed using the Multi-Select option in our platform, this sometimes went wrong. The reason for this was a timeout that prevented all changes from being processed. This has now been corrected. A bulk change can take a long time, so it is recommended to break large amounts of changes into smaller batches.
When a location filter is removed, it no longer remains visible
Until this update, after clearing the location filter, the previously checked locations remained checked (when you opened the location filter menu again). This has now been fixed, the deselected disappears completely.
Archived documents can be opened/unarchived again
Of course it must also be possible to archive documents. And if they are archived, they must still be open. Unfortunately, this did not work, so we have solved it with this update! When you now archive a document/image with (for example) an asset, you can immediately retrieve it from the archive with the element (in the Documents sub tab). How nice!