It's almost spring and that means another nice update from HUMBLE. Read here what we have achieved recently
Documents on the clipboard can be used anywhere
As is known, we are working hard on even better document management. We already made good progress with this in the previous release and a number of nice improvements have also been realized in this release. For example, it is now possible to use files on your clipboard throughout the entire application. So you can download them at any time.
You can find the clipboard under the favorites button, the heart.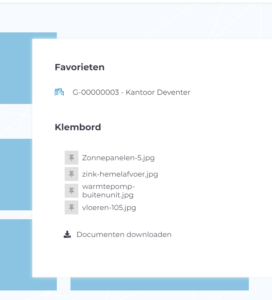 New: Prognotice import
It is now possible to import Prognotice in addition to the existing oPrognose import. This makes it even easier to switch to HUMBLE.
Create an export from Prognotice and then upload it via application management in your HUMBLE environment. The rest will come naturally.
Questions? Feel free to contact us.

Changing a NL-SfB code
A frequently asked question was being able to adapt an NL-SfB. Good news: from this version it is possible to change an NL-SfB code of an element. If you have added an element, you have the option to choose a more suitable NL-SfB code at a later date.
Zip upload with files with each data
Upload a zip file with files and they will be placed automatically. It is possible to add extra description, for example tags and extra fields, so that they are automatically placed with the documents.
You can find the upload button with every entry in HUMBLE. So you can upload all documents related to an element, but also related to a room at once.

Multi archiving of data linked to an element or location
A frequently used option within HUMBLE is the multi-select. This is now also applicable to archiving data linked to an element or a location.
Improvements
Extension to the webhook functionality
We have extended the webhook functionality with authentication. In addition, a fuller dataset is available for even more ease of use.
The ability to add custom fields is enabled for compliance activities and documents
The ability to add custom fields is enabled for compliance activities and documents.
Bugs fixed
Archived rules were still shown
Archived rules were also shown in the compliance rules tab, which has been resolved with this release.